A Thanksgiving Feast That the Family Will Love
Let us be the first to welcome you to the holiday season! Sure, we are a little early, but can you blame us for wanting to get a head start? Between the highly coveted family time, refreshing holiday breaks, and pumpkin spiced everything, we have a lot to look forward to.
Just look at the holidays coming up, Halloween: October 31st, Thanksgiving: November 24th, Black Friday: November 25th, Christmas: December 25th, New Year's Eve: December 31st, National Recommit to the Gym Day: January 2nd.
Here at Honda of Gainesville, your local Honda dealer near Alachua, we've got a full schedule to prepare for, and we couldn't be more excited about it. To help the rest of our Gainesville community get into the holiday spirit, we have decided to offer you some flavorful Thanksgiving alternatives to the tried and true classics.
We know your great aunt Ethel makes the best stuffing in the world and your mom's green bean casserole is basically world famous, so we won't try to one-up them. Instead, we thought we could offer some delicious Thanksgiving options that may be a bit off the beaten path.
So slide on your Ugg slippers, cozy up in your Snuggie, and get ready for the most appetizing blog you've read all day.
Beet Salad with Walnuts and Goat Cheese
If you're looking to bring some color to the plate, then look no further than this dynamite beet salad. This fall dish is best served with candied walnuts and aged goat cheese and is the perfect starter to your Thanksgiving feast.
Hasselback Potatoes
This fun twist on the classic baked potato is so simple but makes a pleasantly noticeable difference. Impress your family with this crispy delicacy. Add bacon slices, butter, a little rosemary, parmesan and salt and voila! If you're looking to modernize your Thanksgiving meal, this easy recipe is a great addition that everyone is sure to enjoy.
Pumpkin Ricotta Stuffed Shells
You won't normally see Italian-style pasta served on Thanksgiving, but this pumpkin stuffed shells recipe is so festive and savory we couldn't possibly leave it out. We've had a lot of success serving this dish, and it is a sure crowd pleaser, so give it a shot this Thanksgiving and shock your family with your cooking skills.
Turkey A La King
Just one taste of this hearty turkey dish is all it takes to become hooked. It has all of the ingredients that are associated with fall: peas, mushrooms, turkey and crispy puff pastry. We still recommend cooking a traditional Thanksgiving turkey, but this recipe is a great addition to the feast.
Bread Pudding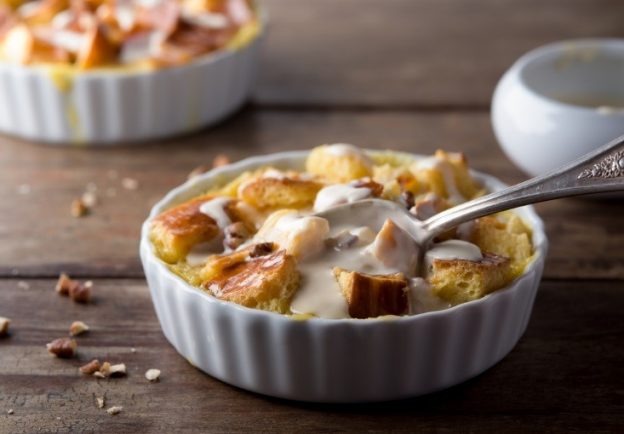 Everyone knows that Thanksgiving is always capped off with pie, and hopefully more than one of them. If you want to spice things up this Thanksgiving, bread pudding is a sweet and savory option that goes great with cinnamon apples and a hefty scoop of ice cream.
Share Your Favorite Thanksgiving Recipes with Your Neighbors at Honda of Gainesville
If you are looking for a new car in Gainesville to get you through the fall, then look no further than Honda of Gainesville. We are a premier new and used car dealer in Central Florida, and we are proud to be able to serve such a fine community. Whether you are looking for finance options for a new vehicle, looking to sell your used car or anything in between, come visit us at 3801 N Main St, Gainesville, FL 32609.