9 Favorite Southern BBQ Rib Recipes
It's no secret that those of us who live here in the South are partial to ribs. Now that summer is finally here, it's time to strap on that apron, gather round family and friends, and cook up a batch of delicious, fall-off-the-bone ribs. That's why we here at Honda of Gainesville, your hometown Honda dealership in Gainesville, Florida, have put together our nine favorite Southern-style barbecue rib recipes, gathered from Southern Living Magazine.  Let's get cooking!
Sweet-Hot Baby Back Ribs – Oh baby! These tangy ribs are calling your name loud and clear. It's a great make-ahead dish that requires overnight marinating in a special sweet-hot barbecue sauce
Honey-Soy Appetizer Ribs – A perfect appetizer or served as a main course, these Asian-style ribs are sure to be a sweet and savory hit.
Smoky Chipotle Baby Back Ribs – These zesty ribs will give your next barbecue a spicy Southwestern vibe.
Low and Slow Baby Back Ribs – These babies are smoked for six hours over hickory wood chips and sprayed with apple juice to keep them tender.
Ribs McCoy – Yes, these really are the "real McCoy." A special four-ingredient rub give these ribs a complex flavor with no marinade required.
Baby Loin Back Ribs – Basting these ribs every 30 minutes and slow-cooking them is the secret to a spectacular result.
Smoky Ribs – Be sure and buy a package of single-slab baby loin ribs that has as much meat and as little fat as possible.
Apricot-Pineapple Sweet Ribs – The secret to these fantastic finger-lickin' ribs is the combination of a sweet barbecue glaze, dry rub, and liquid seasoning.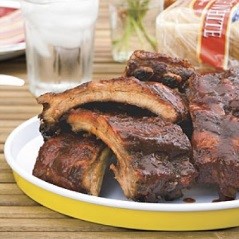 Ultimate Smoky Sweet Ribs – Hold onto your taste buds for this awesome, Memphis-style sweet rib recipe.
We're Serving up Summer Savings at Honda of Gainesville
We're taking a bite out of high prices this summer with delicious deals on our entire inventory of tastefully appointed and well-equipped 2015 Hondas. Choose from a tantalizing menu of special financing offers, manager's specials, dealer discounts, and factory incentives that will save you money. Visit our Honda dealership in Gainesville, conveniently located at 3801 N. Main St., Gainesville, FL 32609 and test drive a new Honda today. For Sales, please call 866-314-4987. For Service, please call 866-312-4940.
For the complete recipes and other great Southern-style summer cooking ideas, please visit:
https://www.southernliving.com/food/whats-for-supper/spareribs-barbecue-ribs